Press Releases
On February 1, 2016 the World Health Organization (WHO) declared Zika virus a Public Health Emergency of International Concern. This designation is reserved for public health crises which will have global reach. The first case of zika virus in Jamaica was confirmed on January 29, 2016.
December 19th, 2016
---
One thousand (1000) Vector Control Aides have been certified through the Heart Trust/NTA as part of the Ministry of Health's vector control initiatives. This was a part of the Ministry's overall Zika response to reduce mosquito breeding sites. The course was developed and delivered by Heart Trust/NTA to vector control… Read More
December 13th, 2016
---
In January 2017, the Ministry of Health's National HIV Programme will adopt the 2015 WHO guidelines, which recommend that anyone who is diagnosed HIV positive be offered treatment (Test and Start). This new recommendation is based on current scientific evidence from clinical trials and observational studies demonstrating that initiating antiretroviral… Read More
December 1st, 2016
---
The Ministry of Health is urging school administrators to report any case of Hand, Foot and Mouth Disease to their Parish Health Departments. School administrators can also request assistance from the Health Departments in their respective parishes if they believe that they may have a case of Hand, Foot and… Read More
October 31st, 2016
---
Minister of Health, Dr. the Hon. Christopher Tufton, has expressed condolences on behalf of the team at the Ministry of Health to the family, friends and colleagues of Dr. Martin Garwood who was killed at his home in Barbican, St Andrew, on Wednesday October 26, 2016. Dr. Garwood, who worked… Read More
October 27th, 2016
---
Overview The Ministry of Health has been receiving notification of Zika fever cases since May 2015 and the first case was confirmed on 29 January 2016. A total of 8,776 notifications for Zika have been received as at 21st October, 2016. Of these 8,776 notifications, 6,731 (77%) fit the case… Read More
October 27th, 2016
---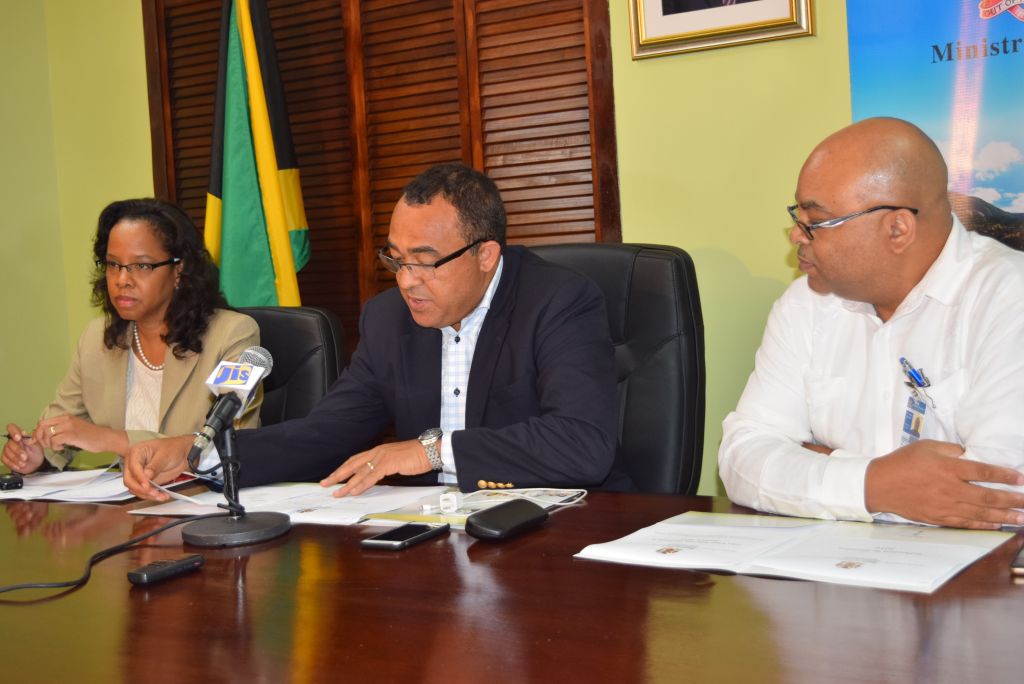 Click here to download the press briefing.
October 27th, 2016
---
Background On February 1, 2016 the World Health Organization (WHO) declared Zika virus a Public Health Emergency of International Concern. This designation is reserved for public health crises which will have global reach. The first case of Zika virus in Jamaica was confirmed on January 29, 2016. Cases of… Read More
October 21st, 2016
---
Download: Microcephaly update as at October 12, 2016 Victoria Jubilee Hospital Report – October 13, 2016 Press Briefing on Microcephaly Microcephaly is defined as a condition in which the head circumference is small for age and sex. Microcephaly is not a specific disease condition, but is a descriptive term determined… Read More
October 13th, 2016
---
Background On February 1, 2016 the World Health Organization (WHO) declared Zika virus a Public Health Emergency of International Concern. This designation is reserved for public health crises which will have global reach. The first case of Zika virus in Jamaica was confirmed on January 29, 2016. Cases of… Read More
October 5th, 2016
---